Not Quite a Package Holiday
1191 English King Richard I 'the Lion Heart' conquered Cyprus on his way to join the Crusaders in north west Israel.
Gone West
1497 The Italian explorer John Cabot, commissioned by England, set sail from Bristol in his ship Matthew looking for a route to the west. At the time, Bristol was the only English city to have had a prior history of undertaking exploration expeditions out into the Atlantic.
York Minster on Fire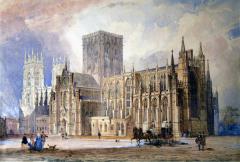 1840 York Minster was badly damaged by fire.
The Royal Albert Hall
1867 Queen Victoria laid the foundation stone for the Royal Albert Hall.
Chelsea Flower Show
1913 The first Chelsea Flower Show was held in the grounds of the Royal Hospital, attracting around 200,000 visitors. The show started in 1827, moving to larger venues until it settled in Chelsea.
Not a Bad Idea
1958 The mayor and corporation of High Wycombe were weighed in, in full view of the public to see whether or not they had been getting fat at the taxpayers' expense!
Armed Police
1965 The Chief Inspector of Constabularies announced that Britain's police would be armed with tear gas guns and grenades for use against dangerous criminals, but that it would not be used for crowd control.
Farewell to Arts
1975 The death of Dame Barbara Hepworth, English sculptor. Her work exemplifies Modernism and, along with Henry Moore and others, she helped to develop modern art, sculpture in particular, in Britain.
Never on a Sunday
1985 The House of Commons agreed to consider Sunday Trading proposals.
The Maastricht Treaty
1993 Britain finally ratified the Maastricht Treaty which allowed greater co-operation between members of the European Union.
Good Bye Worzel Gummidge
1996 The death of actor John Pertwee, known for his role in the TV series Doctor Who and as the title character in the series Worzel Gummidge. He is also well known for his 18-year stint on BBC Radio as Chief Petty Officer Pertwee in The Navy Lark.